The Art & Spirit of Doyle Burbank-Williams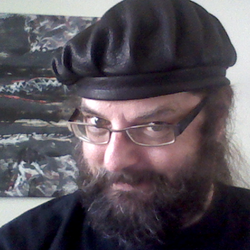 Doyle Burbank-Williams is an artist of eclectic media: acrylic paintings, sculptures, ink and wash, pastels, CG images, stage settings, printmaking and more. He has been making art his whole life, and while in high school was chosen to exhibit a piece at the Kennedy Center in Washington, D.C. He received a BFA from the Minneapolis College of Art and Design in printmaking and sculpture, and has continued exploring new and innovative ways to make art throughout his life. Drawing inspiration from the Abstract Expressionists, he seeks work that draws forth an emotional response from those who interact with his art. Those emotions may range from joy to curiosity to the sharper, darker edges of life we all experience.

He has exhibited throughout the Midwest and recently the Southwest, and created mural-sized installations for conferences and conventions in Nebraska and the Dakotas. His most recent exhibition was entitled "Many Paths to the Center" and was shown in Lincoln and Scottsdale, AZ.


---
Doyle's artwork is for sale. Use the contact form below if you are interested.
Doyle is also available to lead workshops on creativity and spirituality, worship, and for preaching, leading worship, or creating settings for your church or event.