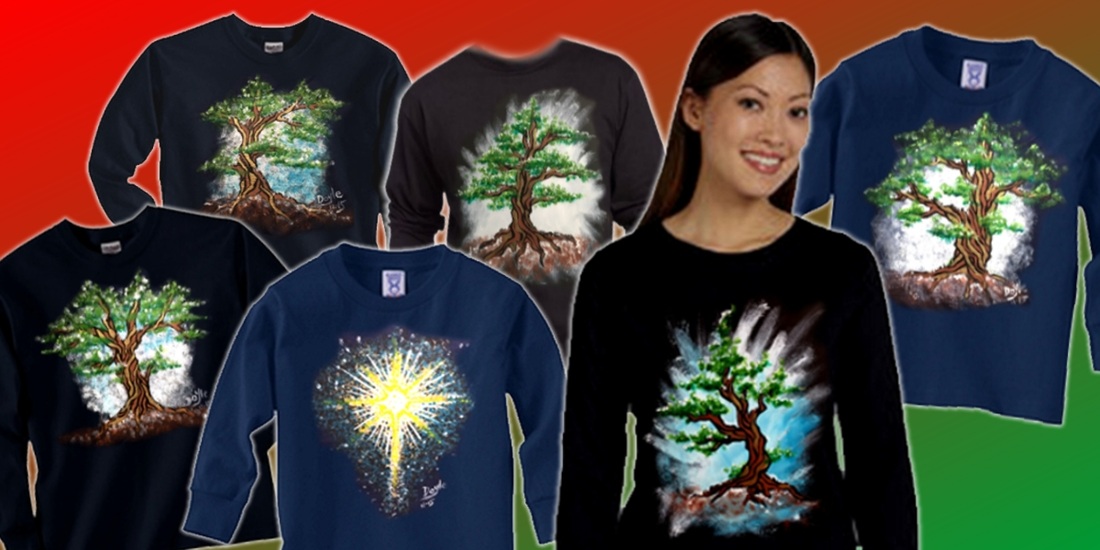 Are you still looking for that unique gift for someone special? You can have a one-of-a-kind hand painted work of art to wear any day or anywhere! For $35 each shirt, plus shipping (and tax if you are in Nebraska), you can have a WInter Tree, a Solstice Star, maybe a Heralding Angel, or a Yule Fire to celebrate the Holy Day of your choice! Contact me today!
Holy Days cards are now available! You can purchase a set of ten cards (2 of each design) for only $20 plus shipping [and tax if you live in Nebraska]. Far better than a red cup of any kind, you can send these images to make holy whichever holidays you celebrate!
DEEP PURPLE
Inspiration comes from some pretty unexpected quarters. A friend from way back saw my artwork and asked if I was able to do a painting in a deep purple. I answered that should be able to, since I've been listening to Deep Purple since I was a teenager (now that is a loooong time!). I said it as a joke but then I got to actually thinking about it. I dug out some old cassette tapes and cranked up the volume. Here is the Deep Purple series!
Earlier this year I got re-acquainted with a beautiful little song by Peter Mayer: Japanese Bowls. Here are the lyrics:

I'm like one of those Japanese bowls
That were made long ago
I have some cracks in me
They have been filled with gold

That's what they used back then
When they had a bowl to mend
It did not hide the cracks
It made them shine instead

So now every old scar shows
from every time I broke
And anyone's eyes can see
I'm not what I used to be

But in a collector's mind
All of these jagged lines
Make me more beautiful
And worth a higher price

I'm like one of those Japanese bowls
I was made long ago
I have some cracks you can see
See how they shine of gold.
-Peter Mayer (www.youtube.com/watch?v=qOAzobTIGr8)http://www.petermayer.net/news/

That imagery inspired the following short series of paintings.


Other Recent Works
Here is a sampling of the works i've been creating over the last number of months. I hope you enjoy!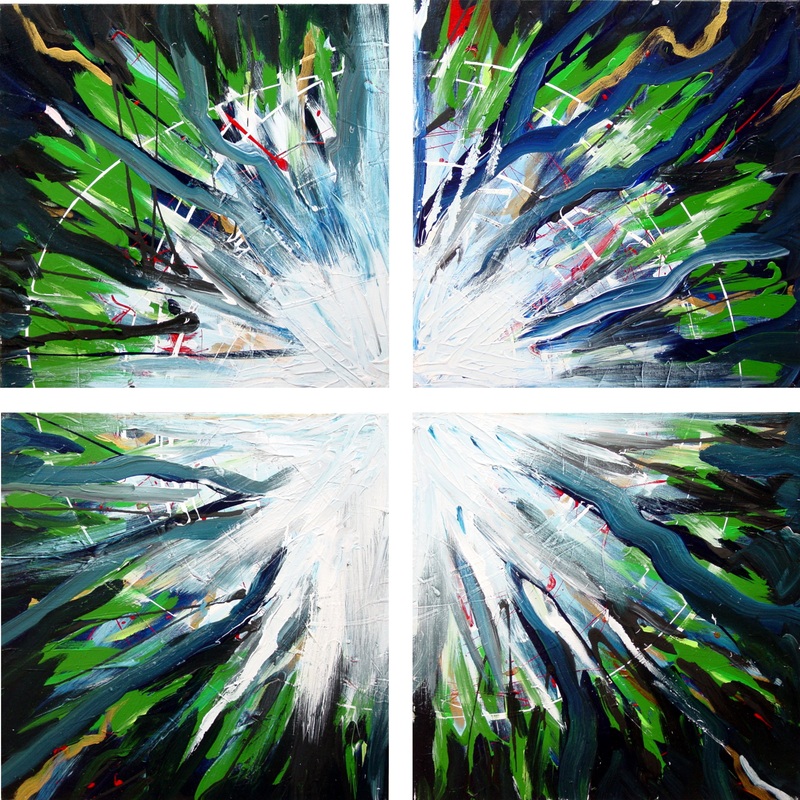 Starburst in 4 Panels (Dare Alla Luce), Acrylic on canvas, 20x20 each panel, $650, matted 12" print - $50
Digital Works
I have been creating digital art for more than 20 years. My first home computer was a used Amiga 500 and it was the on that antique that I first delved into the world of art created in virtuo. Today I use either a Wacom tablet, or more often the great apps available on the Ipad. These works were created on an Ipad, using either Artrage or Sketchbook Pro.They are available to purchase as giclee prints in practically any size. Inquire for prices of larger prints.
You can use PayPal to securely purchase any of the art on this site. Click the button below, then put the title of the artwork in the description line, and then the price. Thank you for your patronage!